WHO IS ALAN KAPLAN
In a world where the trombone is mostly considered just a background instrument, Alan Kaplan stands out. Growing up in Los Angeles he began playing at the age of eight. He tried to prepare for a "real" job, majoring in engineering at LA Valley College, but by the age of nineteen he was on the road with Buddy Rich. He was the youngest trombonist ever to play lead with that band. The next few years found him playing with big band legends such as Harry James, Louis Bellson, Don Ellis, and Lionel Hampton. By the late 70's he was being compared to trombone greats like Carl Fontana and Frank Rosolino.
    In the ensuing years, Kaplan has become one of the top studio trombone players in Los Angeles. His recording credits vary vastly from Marvin Gaye to Johnny Mathis to Madonna to Placido Domingo to Sarah Vaughan to Oingo Boingo to Whitney Houston to the Hollywood Bowl orchestra, Josh Groban, Michael Buble, Paul McCartney, Bob Dylan, Lady Gaga, and countless more.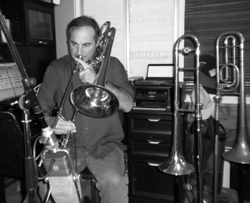 Kaplan's TV credits include such shows as Hawaii 5-0, Dynasty, Voyager, Star Trek, Home Front, Buddy Faro and hundreds of others. He has been the featured trombone soloist on more than 1000 cartoons such as Tiny Toons, Animaniacs, Tazmania, Pinky and the Brain, 101 Dalmations, Timon and Pumbaa and many others. He is currently working on The Simpsons, Cleveland, The Family Guy, American Dad, Revenge, Agent Carter, Galavant, and Penny Dreadful. He was a regular member of the staff bands on the Merv Griffin, Joan Rivers, and Star Search Shows. For the last five years, Alan has been in the orchestra on the Academy Awards. He also has been in the band for the Jerry Lewis Telethon for many years.
     In 1994 and again in 2000 Kaplan performed and recorded with Barbra Streisand on her concert tour.
His movie credits are perhaps most impressive of all, a list of some 900 plus films including "Animal House", "Airplane", "Dances with Wolves", "Out of Africa", "Sleepless in Seattle", "Beauty and the Beast", "Hercules", "Apollo 13", "The Lion King", "Con-Air", "Batman and Robin", "Silverado", "Godzilla", "Zorro", "Planet of the Apes", "Spiderman 1,2, and 3", and "Men in Black 2", "Pirates of the Carribean 1,2, and 3","Star Trek XI","The Incredibles","Up", "Transformers 1&2" "Hancock"," Mission Impossible 4"," Star Trek"," Rise of the Planet of the Apes", "Inside Out", "Tomorrowland", and " Ted", to name just a few.
     Alan was recently featured in articles in The Brass Bulletin and Windplayer Magazine.
     In January of 2002 Alan released his first solo album. It is a beautiful collection of standard ballads arranged for a thirty piece orchestra called Lonely Town. In August of 2012 He released a new CD called "Secrets of Hoyt's Garage" Both are available through this site or at
818-632-3824
     Alan Kaplan has been an artist/clinician for the Kanstul Instrument Company since 2007 and continues to be in constant demand as a clinician and soloist. He can be reached for bookings at "www.Kanstul.net " or at 888-KANSTUL