Lonely Town Tracks
1. Ebb Tide.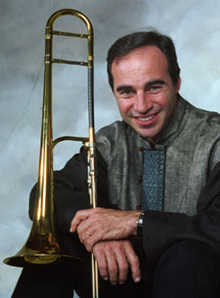 Arranged by the legendary Russ Garcia. The signature Kaplan style: legato, relaxed, effortless. Feel the waves wash you away.
2. Angel Eyes.
Arranged by pianist and composer Bill Cunliffe. A testament to the superb musicianship on this recording: This multi-layered melange of strings and winds and one plaintive horn, along with the other 12 orchestral tracks on Lonely Town, were all recorded in just seven hours.
3. Their Hearts Were Full of Spring.
Arranged by Joe Curiale. On this Bobby Troup tune Kaplan overdubs five trombone parts to emulate the vocal qualities of the original Four Freshmen recording.
4. I Think of You.
Arranged by Russ Garcia. This is the melody from Rachmaninov's 2nd Piano Concerto famously transformed into a pop song and immortalized in 1941 by Tommy Dorsey and Frank Sinatra. Here Kaplan expertly emulates their timeless style.
5. Guess I'll Hang My Tears Out to Dry.
Arranged by Joe Curiale. Even if you didn't know the words, your soul hears a broken heart.
6. Only The Lonely.
Arranged by Bob Alcivar. On this 3 AM and a bottle of whiskey tune, Kaplan produces the kind of long and languorous phrases that would make Mr. Sinatra proud.
7. Nancy.
Arranged by Joe Curiale. See above!
8.I Fall in Love too Easily.
Arranged by Tom Ranier. This is a song Kaplan has always adored. In Tom Ranier's beautiful arrangement you might hear the influence of the great Urbie Green, whose recording of this song is a classic.
9.You'll Never Know.
Arranged by Bob Alcivar. Dedicated to Alan Kaplan's mother and his late father. This was their wedding song, and he always dreamed of recording it for them.
10.Emily.
Arranged by Joe Curiale. With apologies to Tony Bennett, this could become the definitive recording of this pretty tune. Kaplan plays his horn as though he were a singer.
11. The Night We Called it a Day.
Arranged by Steve Bernstein. Here Kaplan introduces the seldom-heard verse to this wonderful Matt Dennis song, dear to anyone whose ever had a broken heart.
12. My One and Only Love.
Arranged by Russ Garcia. An homage to two special people: Dick Nash, who played the definitive version of this (and so many other songs) on trombone; and Kaplan's beautiful wife, the singer Tierney Sutton. In fact, this was their wedding song, which they performed together post-nuptials!
13. Lonely Town.
Arranged by Joe Curiale. This wonderful song by Leonard Bernstein closes the orchestral portion of the album, bidding us adieu to a solitary place we'd like to re-visit again and again.

BONUS TRACKS:
14. Try to Remember.
A Hoyt Bohannon transcription of a Gene Puerling arrangement. Both these bonus tracks were recorded at Kaplan's home studio on a Tascam 788 Porta-Studio. They're arranged for a variety of tenor trombones and bass trombones, eight in all, including a King 2102L, a Conn 8H, a Conn88H and a Conn 62H
15. Don't Like Goodbyes. Arranged by Bob Alcivar. No one does - not unless they lead to many more helloes, with the sounds of a lush orchestra and an assured trombone welcoming us to a world of aural pleasure.